Get The Most Out Of Every Workout With Our Fitness Kickboxing Classes In Fort Collins
Are you looking for a total-body training program that produces real results? Well, we've got the answer.
At the Krav Maga Institute, we are proud to introduce a comprehensive Fitness Kickboxing program that blends the best aspects of health and wellness with total-body strength gains and incredible cardiovascular exercise. See results like never before and walk away with an awesome sense of accomplishment.
This class is perfect for busy moms who just can't find time to train throughout the busy day. Our Fitness Kickboxing Classes are morning classes held 3 days a week - perfect for after you drop your kids off a school!
We're offering THREE classes AND Boxing Gloves for just $19.99 so new members can give it a shot. Call now or fill out the short form on your screen to get started now!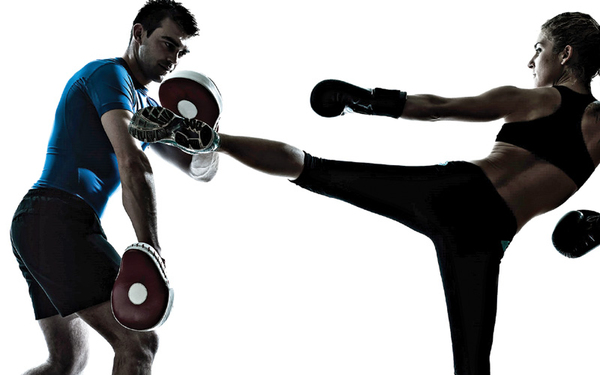 Why Is Our Fitness Kickboxing In Fort Collins Right For You?
This program is designed to meet the needs of women looking to get the most out of their fitness routine. You don't need to be an experienced athlete to thrive in our Fitness Kickboxing program.
We offer scalable strategies and high-energy instruction that can keep your body moving from start to finish and keep you motivated like never before. PLUS, we maintain a welcoming environment where you can feel supported every step of the way.
At the Krav Maga Institute in Fort Collins, we're giving you tools like:
Healthy eating plans
Comprehensive body analysis
Ongoing fitness assessments
Personalized coaching
And Yeah, We're Helping You See Incredible Results
Fitness Kickboxing is unlike so many other fitness routines because it's not about counting reps and completing a routine. This high-energy system keeps you motivated with workouts that are different week to week. We keep your muscles guessing and help you have a blast in the process!
Women of all experience levels can quickly enjoy:
Sustainable fat burn
Lean muscle gains
Boosted speed and agility
An incredible sense of accomplishment
Take On THREE Introductory Classes Today! Take On The Best Fitness Kickboxing In Fort Collins!
Don't spin your wheels any longer. Take on a total-body training plan that produces real results and helps you enjoy sustainable success like never before!
Join us at the Krav Maga Institute in Fort Collins and check out our Fitness Kickboxing Classes today! Just fill out the short form on your screen to get started or give us a call now to get started with THREE introductory Classes and a pair of Boxing Gloves for just $19.99.